KZG Announces the "World's Top 100 Clubfitters" for 2014

KZG, the #1 Custom ProLine, is pleased to announce the "World's Top 100 ClubFitters" for 2014. Each year KZG honors 100 professionals possessing superior skill, integrity and passion for clubfitting. This is the ninth year in a row that KZG has honored the elite of the industry's clubfitters.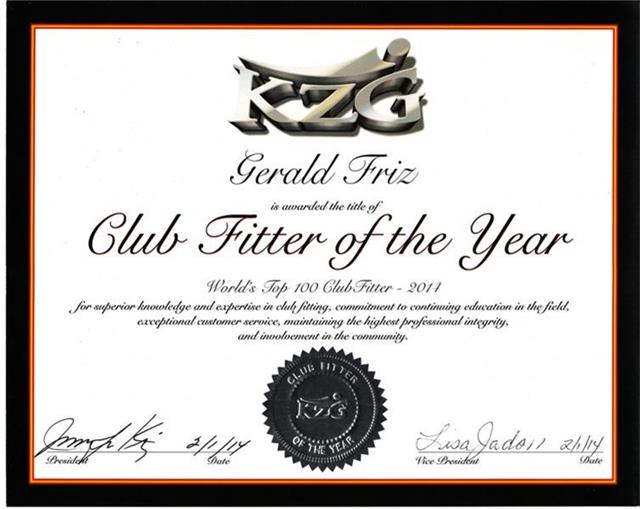 "The industry is talking about how to grow the game of golf. Well it's about time they start by helping the 92% of all golfers who are still playing with ill-fitting clubs!" states Dr. Jennifer King, President of KZG. "92% of all golfer's can't improve their games, lessons are futile, and the game extremely frustrating for them. There are very few qualified fitters in the world with the skill, integrity and passion to help them."
"While the norm is to give golfers what they want, it is only those fitters with integrity who insist on giving golfers what they actually need to improve their game" continues King. "KZG takes great pride in honoring the best of the best. Fitters who have taken the time to learn their craft, to insist on performance rather than caving to the easy sell of the most buzzed product. these fitters are truly the "soul of golf.""
The 2014 Honorees take the time to learn about the golfer's game, goals and expectations.  They are experienced in analyzing launch monitor statistics, can ascertain what design features will give maximum performance for any given golfer, and are able to select the perfect clubhead and shaft combination for optimum performance. They also make sure that the custom club is built perfectly with the right specifications, spine aligned and frequency matched. The primary goal of the Top 100 is that they maximize performance for the golfer.
An independent panel of industry experts determined the criteria necessary to be considered a top clubfitting professional. From the criteria submitted, a point system was put into place to grade each application. The panel included Clay Long, renowned club designer and personal fitter for Jack Nicklaus; Gene Parente, president of Golf Laboratories, Inc. a testing facility used by the major equipment manufacturers; Dr. Jennifer King, KZG's President; and Dr. Christian Reichardt, author and doctor of sports medicine and fitness.
This year's honorees hail from 21 countries around the world, including 35 from the UK/Europe, 39 from the United States, 10 from Canada, 8 from Asia and 8 from Australia. Winners range from small shops serving rural areas to large performance centers with multiple fitters and instructors. All share a passion in helping golfers.
World's Top 100 Clubfitters
Australia
| | | |
| --- | --- | --- |
| ACT | Craig Smith | Point N Putt |
| NSW | Jeff Mansfield | Jeff Mansfield Golf |
|   | Graeme Trew | Murwillumbah Golf Academy |
|   | David Reckless | Reckless Golf |
|   | Gary Tozer | Aussie Custom Golf |
| Perth | Stephen Herbert | Royal Fremantle Pro Shop |
|   | Greg Ashton | Ashton Enterprises |
| VIC | Bryan Ferguson | Golf Tutor |
Europe and UK
Austria

Davis Lauss

Golfclub Ottenstein

 

Manfred Capelli

Capelli Golf

Belgium

Vincent Willems

Golf Centrum Puurs NV

 

Eddy Pelgrims

Golf Fitting Studio

England

Matt Pearson

Performance Fitting Centre

 

Jason MacNiven

Golf Principles

France

Arnaud Smaghe

Gard & Golf

 

Marc Brossard

MB Clubs

 

Jean-Michel Queva

Queva Clubfitting

 

Olivier Chalon

C.O. Golf

 

Herve Francillon

HF Golf Fitting

Germany

Gerald Friz

Golf+IT

 

Karlheinz Palm

Nostratec Golf Service Center

 

Alistair Grandison

Bob and Son GmbH

 

Joerg von der Gathen

Club Align Golf

 

Benny Pfister

Hole in One Fitting

 

Marco Burger

Hole in One Fitting

 

Richard Phillips

Club Tec

Italy

Gabriele Sorbara

Clubfitting di Gabriele Sorbara

Netherlands

Theo Erben

FATco Golfclubs

 

Brian Griffiths

Golf Academy Brian Griffiths

Marcel de Jager

Golfhunter 

Spain

Agustin Sanchez

Golfinteligente

 

Juan Carlos Diaz

Golf Planet

 

Miki Rapado

Handmade Custom Clubs

 

Abraham Ruiz

A. R. Clubmaker

 

Ian Bradshaw

Learn & Play Golf Academy

Sweden

John Ahlblom

Golfakademin I Uppsala AB

 

Johanna Pyk-Jargård

Johanna's Golfshop

 

Breit Olsson

Brejans AB

Switzerland

Norbert Studer

R & L Custom Golf Clubfitting

 

Willi Vogt

R & L Custom Golf Clubfitting

 

Giuseppe Naula

Pepe's Golf Clinic

 

John Furch

The Golfer's Club

Slovenia

Viljem Kern

Kern Golf
Canada
| | | |
| --- | --- | --- |
| Alberta | Lyle Helland | Simply Golf |
|   | Rick McKenzie | Alberta Golf Works |
|   | Jordy McKenzie | Alberta Golf Works |
| BC | Terry Stav | Golf West |
|   | Chris Knight | Vista Ridge Golf |
|   | Winston Wong | Fit Golf Center |
| Nova Scotia | Robert Spicer | RJS Custom Clubs |
| Ontario | Rene Grandmaison | Grand Lynx Golf Centre |
|   | Don Irving | Artisan Golf Co. |
| Quebec | Bert Emond | Golf Price Canada |
Asia
| | | |
| --- | --- | --- |
| Indonesia | Gavin Webb | Brawijaya International Golf Academy |
| Japan | Kenju Fujiwara | Golf World Net |
| Malaysia | Alistair Guthrie | The Old Clubhouse |
|   | Aswan Baki | Aswan the Club Maker |
| Philippines | Jake Ong | Custom Clubmakers Int'l |
|   | Francis Go | Custom Clubmakers Int'l |
| So. Korea | Brian Choi | Tayoon Golf |
| Taiwan | Jason Lin | JS Golf Fitting Studio |
United States
| | | |
| --- | --- | --- |
| Alaska | John Gose | Full Swing Golf of Alaska |
| Arizona | Tim Eberlein | Golf Academy of America |
| California | Kyle Cullum | No Bogeys Golf |
|   | Jerry Molinar | Marc's Golf Service |
|   | Dennis Close | Marc's Golf Service |
|   | Sam Goulden | Sam Goulden Golf |
|   | Matt Mora | Noho Custom Golf |
|   | Mackenzie "Mac" Todd | Urban Golf Performance |
|   | Ben Smock | Urban Golf Performance |
| Colorado | Bryan "Buddy" Beem | Colorado Custom Golf |
|   | Coe Kunz | Colorado Custom Golf |
| Florida | Jeff Parrot | Golf Provisions |
|   | Josh Musselman | Josh Musselman's |
|   | Mike Girard | Michael Girard Golf Studios |
| Hawaii | Allan Ano | Power Golf Hawaii |
| Idaho | Bill Moseley | Golf 365 |
| Illinois | Brian Camp | Revolution Golf |
| Iowa | Chris Larson | Clubhouse Custom Clubs |
| Kansas | Mike Dickerson | Golf MD |
| Louisiana | Ben La Vergne | Academy Club Service |
|   | Kyle Chauvin | Chauvin Golf |
| Michigan | Clark Peterson | Golf Performance Academy |
| North Carolina | Kelly York | Kelly's Custom Golf |
| New York | Paul Sanders | Shadows Golf Academy |
| Ohio | Dave Freed | DV Golf/Akron Golf Clubs |
|   | Larry Baldridge | Mitchell Golf Equipment |
| Oregon | Jari Hakonen | Birdie Finish Golf |
|   | Bob Duncan | RiverRidge Golf Complex |
| Pennsylvania | Jerry Hintze | The Clubmakers Shop |
|   | Dave Gedris | Oakmont Golf Center |
| South Carolina | Doc Griffin | Golf Stop @ Riverside |
| Tennessee | Steve Kirkpatrick | Golf Rx |
| Texas | Tim Brantley | The Golf Station |
|   | Mike Nugent | Impact Golf & Racket |
| Virginia | Jim Smiley | Golfdom |
|   | Tim Boogan | Golfdom |
|   | Pablo Gonzales | Golfdom |
| Washington | Kelly Crumpler | H2C Golf Custom Club |
| Puerto Rico | Hector Blanco | Play Better Golf |