KZG Announces the "World's Top 100 Clubfitters" for 2015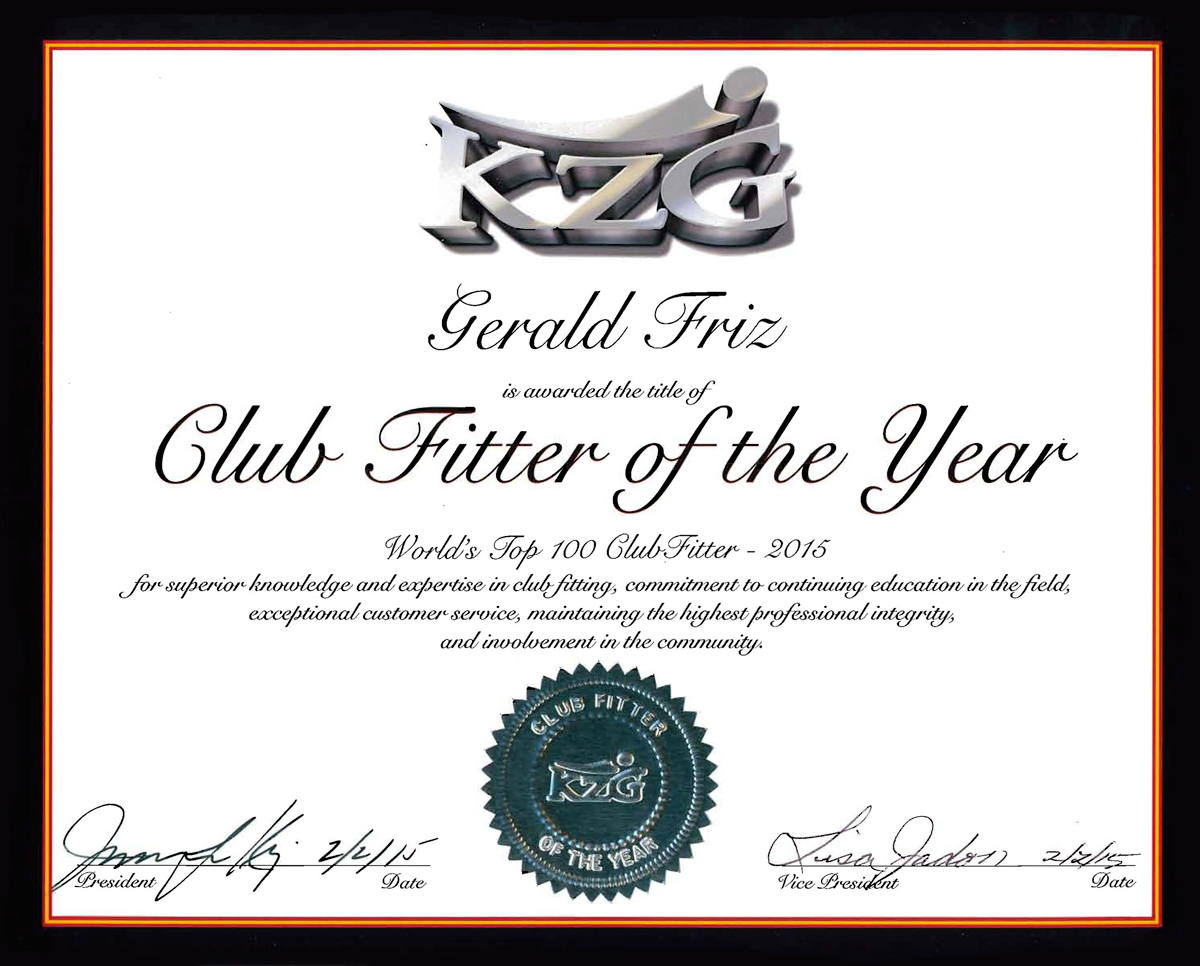 KZG, the #1 Custom ProLine, is pleased to announce the tenth annual "World's Top 100 ClubFitters" for 2015. Each year KZG honors 100 professionals possessing superior skill, integrity and passion for clubfitting. This is the tenth year in a row that KZG has honored the elite of the industry's clubfitters.

"Surveys report that 9 out of 10 golfers are playing the wrong clubs. Teaching professionals are unanimous: you can't teach around ill-fitting clubs" states Dr. Jennifer King, President of KZG. "If the industry is serious about growing the game, it is time to concentrate on what the golfers 'need' rather than what they 'want'. Only a true professional fitter with skill and integrity takes the time to educate the golfer on what clubs they actually need and takes the time to fit them perfectly. KZG is very proud to announce the Top 100 Professional ClubFitters in the World who excel at their craft."

The 2015 Honorees learn about the golfer's game, goals and expectations. They are experienced in analyzing launch monitor statistics, can ascertain what design features will give maximum performance for any given golfer, and are able to select the perfect clubhead and shaft combination for optimum performance. The Honorees also double check to be sure that their specifications have been followed precisely and that each club is spine aligned and frequency matched. It is through these efforts that these Professionals grow the game.
 
An independent panel of industry experts determine the criteria necessary to be considered a top clubfitting professional. From the criteria submitted, a point system was put into place to grade each application. The panel included Clay Long, renowned club designer and personal fitter for Jack Nicklaus; Gene Parente, president of Golf Laboratories, Inc. a testing facility used by the major equipment manufacturers; Dr. Jennifer King, KZG's President; and Dr. Christian Reichardt, author and doctor of sports medicine and fitness.
 
This year's Honorees hail from 22 countries around the world, including 48 from the UK/Europe, 26 from the United States, 11 from Canada, 5 from Asia, 8 from Australia and 2 from Africa. The Honorees come from a wide variety of locations ranging from small stores serving rural areas to large performance centers with multiple fitters and instructors. All share a true passion in helping golfers to better enjoy their game.
World's Top 100 Clubfitters
| | | |
| --- | --- | --- |
| Australia - 8 |   |   |
| ACT | Craig Smith | Point N Putt Golf |
| NSW | Graeme Trew | Murwillumbah Golf Club |
| NSW | Gary Tozer | Aussie Custom Golf Centre |
| NSW | David Reckless | Reckless Golf |
| NSW | Jeff Mansfield | Jeff Mansfield Golf Solutions |
| VIC | Bryan Ferguson | Golf Tutor |
| WT | Stephen Herbert | Royal Fremantle Pro Shop |
| WT | Greg Ashton | Ashton Ent. Proprietary Ltd. |
|   |   |   |
| Europe & UK - 48 |   |   |
| Austria | Andreas Lauss | Golfclub Ottenstein |
| Austria | Manfred Capelli | Capelli Golf |
| Belgium | Eddy Pelgrims | European Golf Fitting Studio |
| Belgium | Vincent Willems | European Golf Fitting Studio |
| Czech Republic | Jiri Votroubek | Golf 59 |
| Czech Republic | Milan Vantuch | Golf 59 |
| England | Matt Pearson | Performance Fitting Center at Waterton Park GC |
| France | Jean-Michel Queva | Queva Clubfitting |
| France | Arnaud Smaghe | Gard & Golf |
| France | Marc Brossard | MB Clubs |
| France | Olivier Chalon | C.O. Golf |
| France | Nicolas Tourkia | L'Atelier du Golf |
| France | Herve Francillon | HF Golf Fitting |
| France | Alexandre D'Incau | Pro Clubmaker |
| France | Matteo Oger | Matteo Clubmaking Golf |
| Germany | Alistair Grandison | Bob & Son |
| Germany | Gerald Friz | Golf+IT |
| Germany | Joerg von der Gathen | Club Align Golf |
| Germany | Benny Pfister | Hole in One Fitting |
| Germany | Marco Burger | Hole in One Fitting |
| Germany | Richard Phillips | Golf Pro Shop Münster Tinnen |
| Italy | Gabriele Sorbara | Clubfitting di Gabriele Sorbara |
| Italy | Gigi Camurati | Japan Golf |
| Italy | Marco Zambon | Japan Golf |
| Ireland | Nigel Shaw | Warrenpoint Golf Club |
| Netherlands | Theo Erben | Fatco Clubfitting |
| Netherlands | Marcel de Jager | Golfhunter |
| Netherlands | Brian Griffiths | Golf Academy Brian Griffiths |
| Netherlands | Marcel Bal | Golfschool Dirkshorn |
| Netherlands | Kathleen Renders | Golf en Management |
| Netherlands | Joop Renders | Golf en Management |
| Scotland | Ken Campbell | Machrihanish Golf Club |
| Slovenia | Viljem Kern | Kern Golf |
| Spain | Carlos Garcia Diaz | Golf Planet |
| Spain | Agustin Sanchez | Golfinteligente |
| Spain | Abraham Ruiz | A. R. Clubmaker |
| Spain | Mateo Noel | Fit & Golf |
| Spain | Daniel Lasseter | Fitting Center Under Par |
| Spain | Michel Rodriguez | MicRod Clubfitter |
| Spain | Miki Rapado | Handmade Custom Clubs |
| Sweden | Johanna Pyk-Jargard | Johanna's Golf Shop |
| Sweden | Tony Guelli | The Golf Company |
| Sweden | John Ahlblom | Golfakademin i Uppsala |
| Sweden | Marcus Karlsson | Golf Monkey |
| Sweden | Breit Olsson | Brejans |
| Switzerland | Giuseppe "Pepe" Naula | Pepe's Golf-Clinic |
| Switzerland | Norbert Studer | R & L Custom Golf Clubfitting |
| Switzerland | Willi Vogt | R & L Custom Golf Clubfitting |
|   |   |   |
| Canada - 11 |   |   |
| Alberta | Jordy McKenzie | Alberta Golf Works |
| Alberta | Lyle Helland | Simply Golf |
| British Columbia | Terry Stav | Golf West |
| British Columbia | Chris Knight | Vista Ridge Golf |
| Nova Scotia | Bob Spicer | RJS Custom Clubs |
| Ontario | Don Irving | Artisan Golf Co. |
| Ontario | Rene Grandmaison | Grand Lynx Golf Centre |
| Ontario | Jason Faubert | The Golfer's Academy |
| Ontario | John Pflug | J P Golf    |
| Ontario | Ryan Holley | The Golf Lab - Ontario |
| Quebec | Peter Lamothe | Golf Option |
|   |   |   |
| Asia - 5 |   |   |
| Malaysia | Alistair Guthrie | The Old Clubhouse |
| Malaysia | Aswan Baki | Aswan the Clubmaker |
| Philippines | Francis Go | Custom Clubmakers International |
| Philippines | Jake Ong | Custom Clubmakers International |
| South Korea | Brian Choi | Tayoon DotCom Ltd. |
|   |   |   |
| United States - 26 |   |   |
| Arizona | Jeff Gravely | Swing EZ Golf |
| Arizona | Tim Eberlein | Golf Academy of America |
| California | Jerry Molinar | Marc's Golf Service |
| California | Dennis Close | Marc's Golf Service |
| California | Susan Roll | Carlsbad Golf Center |
| California | Monica Stratton | Carlsbad Golf Center |
| California | Bryan Murphy | Bryan Murphy Golf |
| California | Lee Pope | KZG Staff Professional |
| California | Audiel Guzman | KZG Staff Professional |
| Colorado | Bryan "Buddy" Beem | Colorado Custom Golf |
| Florida | Mike Girard | Michael Girard Golf Studios |
| Florida | Sammy Samson | Michael Girard Golf Studios |
| Illinois | Brian Camp | Revolution Golf HD |
| Illinois | David Camp | Revolution Golf HD |
| Kansas | Mike Dickerson | Golf MD |
| Kentucky | Dale Cummings | Cummings Custom Clubs |
| Michigan | Clark Peterson | Golf Performance Academy |
| New York | Paul Sanders | Shadows Golf Academy |
| North Carolina | Kelly York | Kelly's Custom Golf |
| Oregon | Bob Duncan | McGowan Golf |
| South Dakota | Bryan Sterk | Golf Etc. - Sioux Falls |
| Texas | Tim Brantley | The Golf Station |
| Virginia | Jim Smiley | Golfdom |
| Washington | Kelly Crumpler | H2C Golf Custom Club |
| Wisconsin | Mike Moldenhauer | The 10 Iron |
| Puerto Rico | Hector "Blanco" Matos | Play Better Golf |
|   |   |   |
| Africa - 2 |   |   |
| South Africa | Warren Lake | Golf Science |
| South Africa | Regardt Van Rooyen | Golf Science |